Tomales Point Trail
To Get There: From Hwy 1 just south of Point Reyes Station, head west on Sir Francis Drake Hwy. A ways after you pass through Inverness, turn right on Pierce Point Road. After you pass McClure's Beach, you will come to the trailhead for the Tomales Point Trail. Park alongside the road as the parking lot is a little small for horse trailers. Parking and day use are free. It is a long drive (around 45 minutes from Hwy 1), but definately worth the trip!
Trails Info: This is a very easy ride. Wide trail, good footing, pretty flat, a little over eight miles round trip. Beautiful coastal vistas the whole way. You can keep going right out to the point by following the elk trails through the bush lupine (it is a little brushy). You will definately see a herd of elk. You can get a free trail map from the main visitor's center at Bear Valley.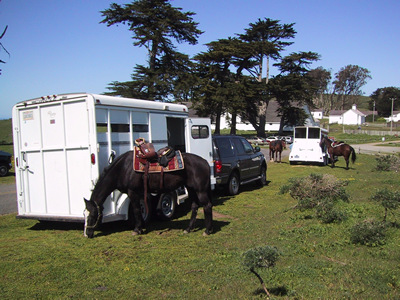 Getting ready to ride the Tomales Point Trail.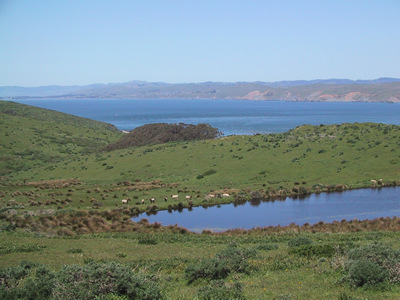 Herd of elk with Tomales Bay in the background.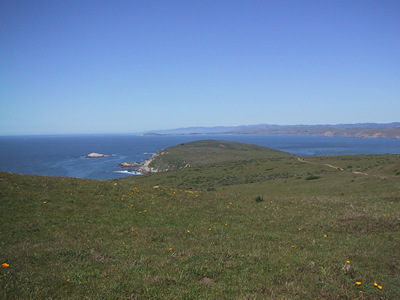 Tomales Point.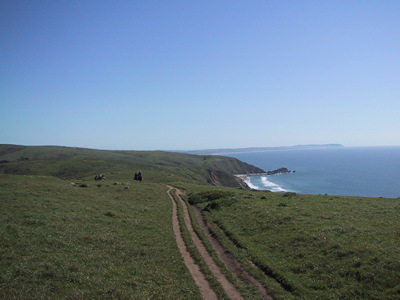 A view of Point Reyes along the trail.