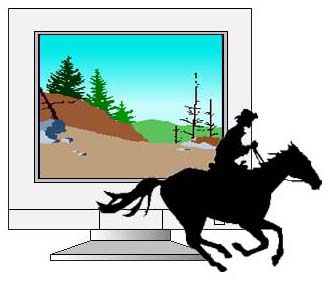 ERiders
ERiders is an Internet-connected Northern California equestrian group. Some 250+ riders from Redding to Yuba City participate. There is nothing to join, no memberships, no officers, no dues, no meetings. Anyone who rides a horse or mule and has an email address can "sign on".
Since the project started, ERiders have ridden together at Paynes Creek Recreation Area near Red Bluff, Upper Bidwell Park in Chico, Cold Springs near Butte Meadows, Loafer Creek Recreation Area outside Oroville, Black Butte Lake, and Beldon on Highway 70. A three-day, two-night outing to Caribou Lake in the Caribou Wilderness area was the groupís most ambitious trip in 2001. This year, some ERiders are planning rides in Trinity, Lassen, and Shasta counties. Of course, they will continue to have their traditional one-day rides in Tehema, Glenn, and Butte counties. ERiders activities are not athletic events. Most riders walk their horse at a leisurely pace.
Normally, between five and 20 riders show up for rides, with 10 about average. The goal of most ERiders is to enjoy the natural beauty of areas where they ride and to socialize with people who share an interest in horses and riding.
Email List
The ERiders List provides the ongoing connection between ERiders. Once you join the list, you can send email to everyone else on the list simply by sending a single email to the list address: ERiders@NorCalEquest.com. It is completely free. The only requirement is that everyone treats each other with respect. This list is to be used primarily as a way to organize rides, thus the email traffic is minimal. If you are interested in discussing other equestrian related topics, please subscribe to ETalk instead.
The way you join is by subscribing to the list. After reading these instructions, you can click on the link below to go to the subscription page. You will enter your name and your email address and click on the "subscribe" button. (While it is not required that you use your real name when subscribing to the ERiders list, it will be helpful if you include your name when messaging the whole group. Most ERiders want to know who is suggesting any particular riding event.) Once you subscribe, you will receive a couple of "welcome" emails from the list server. At this point you have joined the list and are free to send email to the list address. If you ever want to leave the list and stop receiving the list emails, you simply unsubscribe using the same procedure.
After You Have Subscribed...